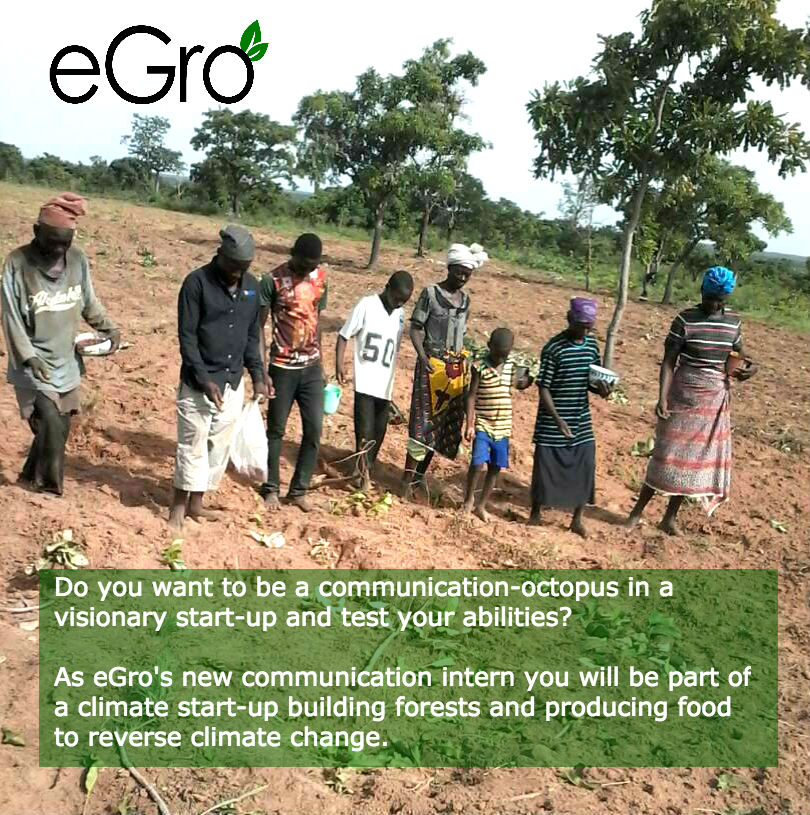 WANTED:
Communicative grammar geek who wants to make a difference!
Are you able to write compellingly for an internal and external audience? Do you want to test your abilities and be a language-octopus in a visionary start-up?
Perfect, because eGro is looking for a co-author with autistic writing skills!
eGro is a climate start-up building forests and producing food to reverse climate change. We are currently working in Ghana to prove our business model.
We are looking for a colleague who is passionate and committed to be part of the roller coaster life of a start-up. We need a full time employee for about 20-30 hours a week, for a new position as our communication intern. The position is unpaid, but is also a unique chance to gain practical experience and be part of a small and cooperative team, passionate about reversing climate change by doing business!
The tasks you will be working on revolve around written internal and external communication such as keeping our webpage nicely groomed, writing blogs and co-writing on different business documents. In the coming fall we will also begin eGro's new communication strategy, where you can play an important part. As such, you will have the opportunity to gain greater responsibility in time. We expect that you are able to self-reflect, structure and work independently, be open and vulnerable.
You will be working directly with eGro's Project Manager and Communicator Freja Poulsen.
Please send her an application with your motivation and an example of your writing to freja@egro.dk
For more info on eGro, visit our webpage http://www.egro.dk/ or Facebook https://www.facebook.com/egrofanpage