The eGro model aims to make rural farming communities into worldwide food producers, by making them part of the global value chain.
eGro is currently active in Northern Ghana, in the area between Yendi and Tamale, and is collaborating with 8 local communities, 112 farmers on approximately 140 acres of land used for crops.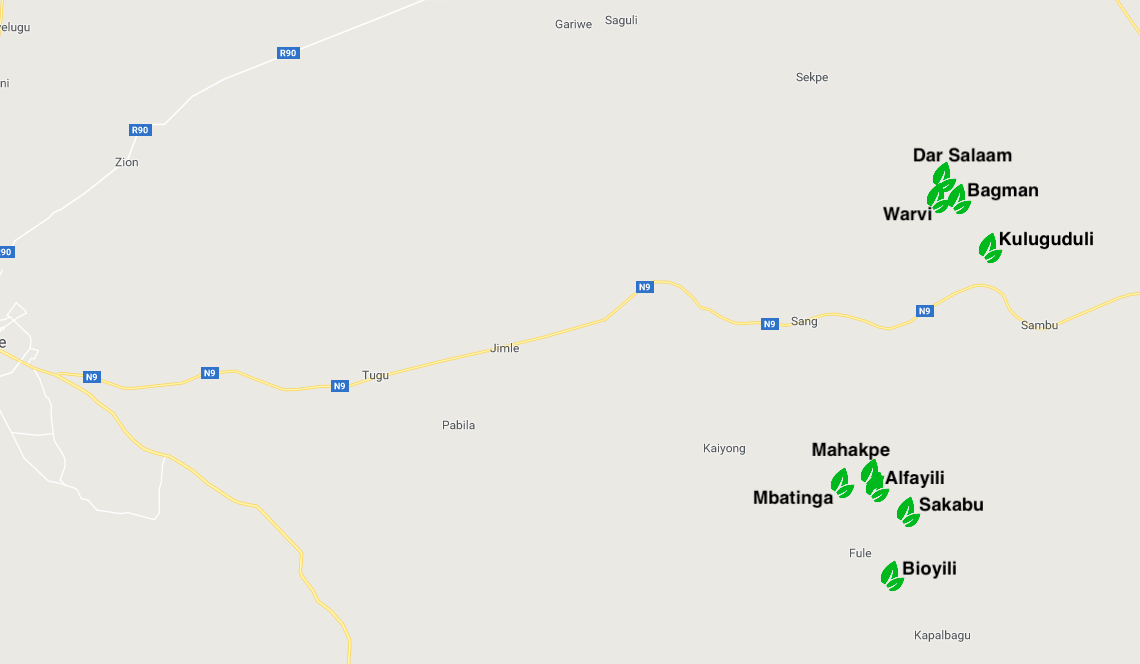 We are in 8 communities; Mbatinga, Alfayili, Mahakpa, Sakabu, Bioyili, Dar e Salaam, Warvi, Kuluguduli +Bagman (Non productive)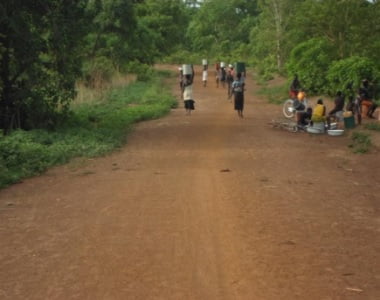 Currently all our farmers in Ghana are "subsistence farmers", that means they are only producing for their own families consumption in their household, and generally have no other income.
This is the very bottom of the bottom-of-the-pyramid.
They live on less than half a dollar per day, per person, sometimes even less. 
When they produce a few extra bags of crops in a bumper year, more than they can eat, they will sell the surplus of this bumper harvest on the Thursday market in the local town called Sang.
They walk down the gravel road with a bag on their heads during a dry season and barely make enough money to buy a bar of soap from their sales.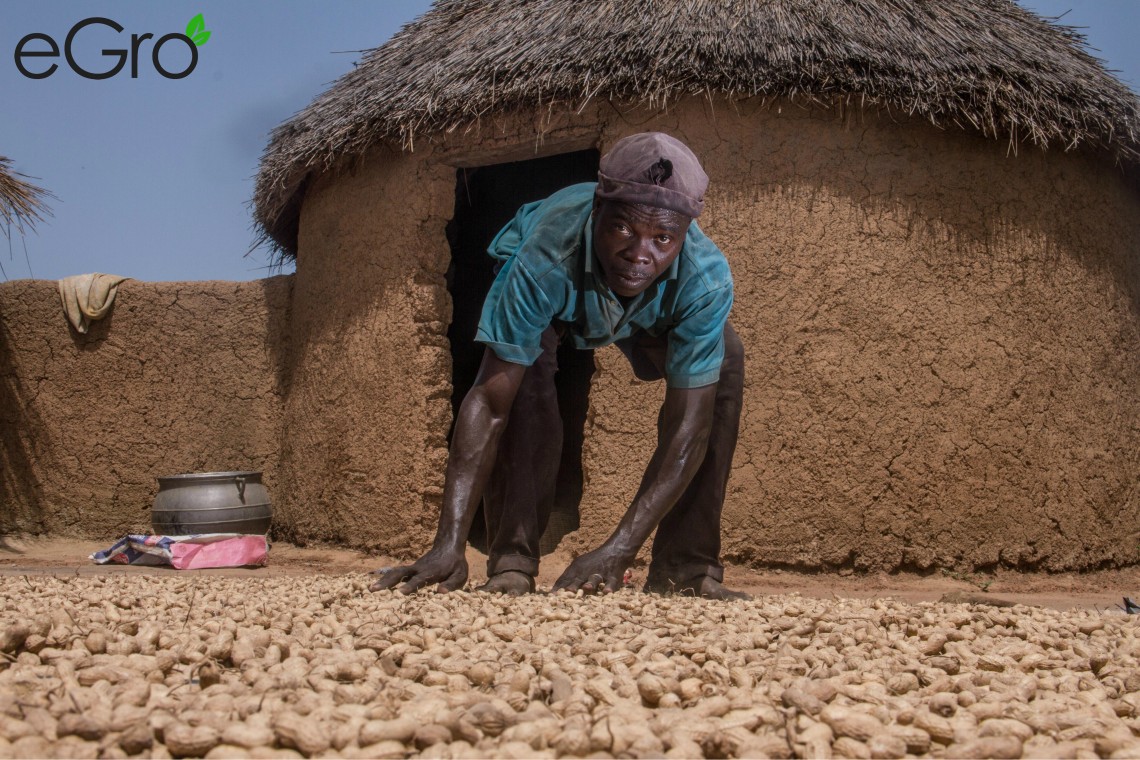 The majority of our farmers are still learning to be commercial. Many of them are, however, commercial in their mindset, that's why they were attracted to the for-profit we took to their communities in 2016.
Others are very far away from being able to run production. They have one thing in common, neither of them have access to capital to develop their production methods.
What they need is the experience of producing large quantities of a single crop at the same quality standard. They are learning how to trade with  the west and live up to our food safety standards, raising their own production, food security, safety and health.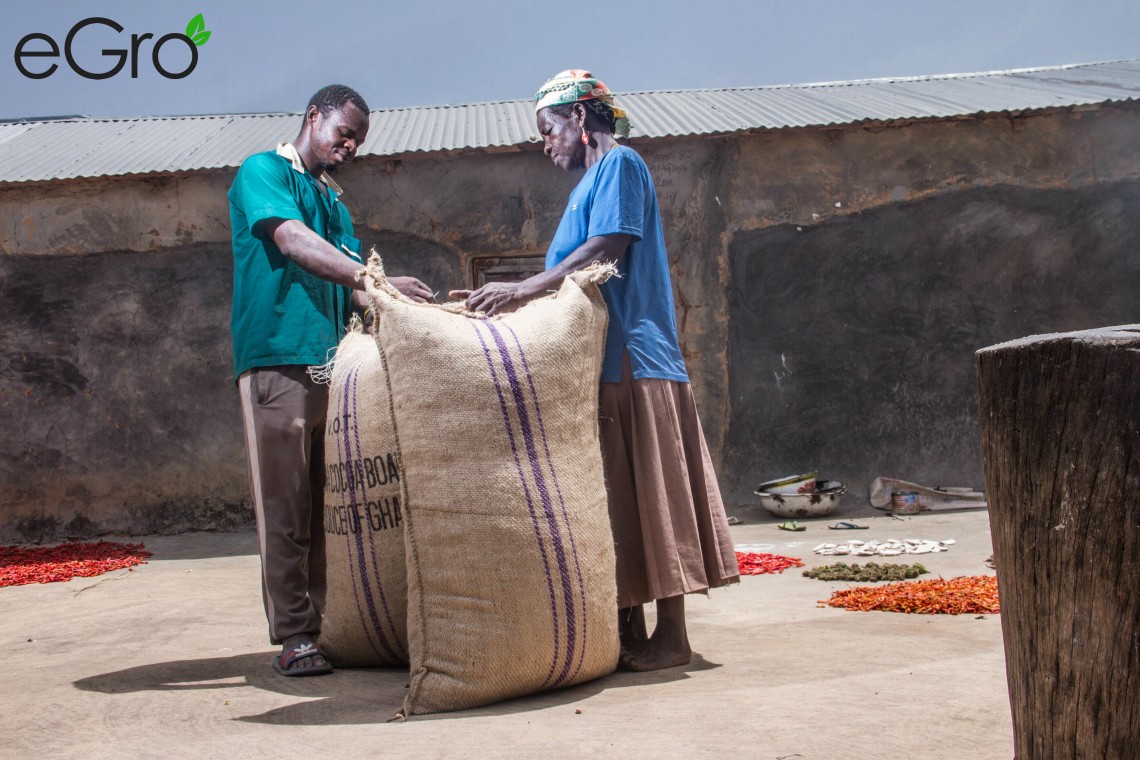 These farmers needs our commitment whether we choose to sponsor them with no terms or give them lend them money. When you fund a farm with eGro, you need to make up your mind.
You can choose either to be a sponsor of a new "non-commercial" farmer where the risk can be quite high, and expect no return on your investment. Perhaos one day you will hear a great story that they made into commercialiasation.
Or you can give a micro-loan to one of our already existing "commercial" farmers, and expect to get payed back by eGro over time. In both cases eGro Ghana Ltd. works as the agent and the implementer, while eGro IVS is the loan facilitator.
eGro's communities and farmers in Ghana
Located 12 km south of Mbatinga, it's the most southern point of the Mbatinga cluster where eGro operates. It was one of the Mbatinga's community members Kukuo Naa that recommended us going here, because they had a farmer of his own generation who had been involved in many NGO projects, and who had experience with planting trees.
We found exactly what he said, a community ready to jump on board, with vast knowledge and inspiration for the whole region. People building forest systems like hedgerows and teak, live-fences and designing almost according to agroforestry principles.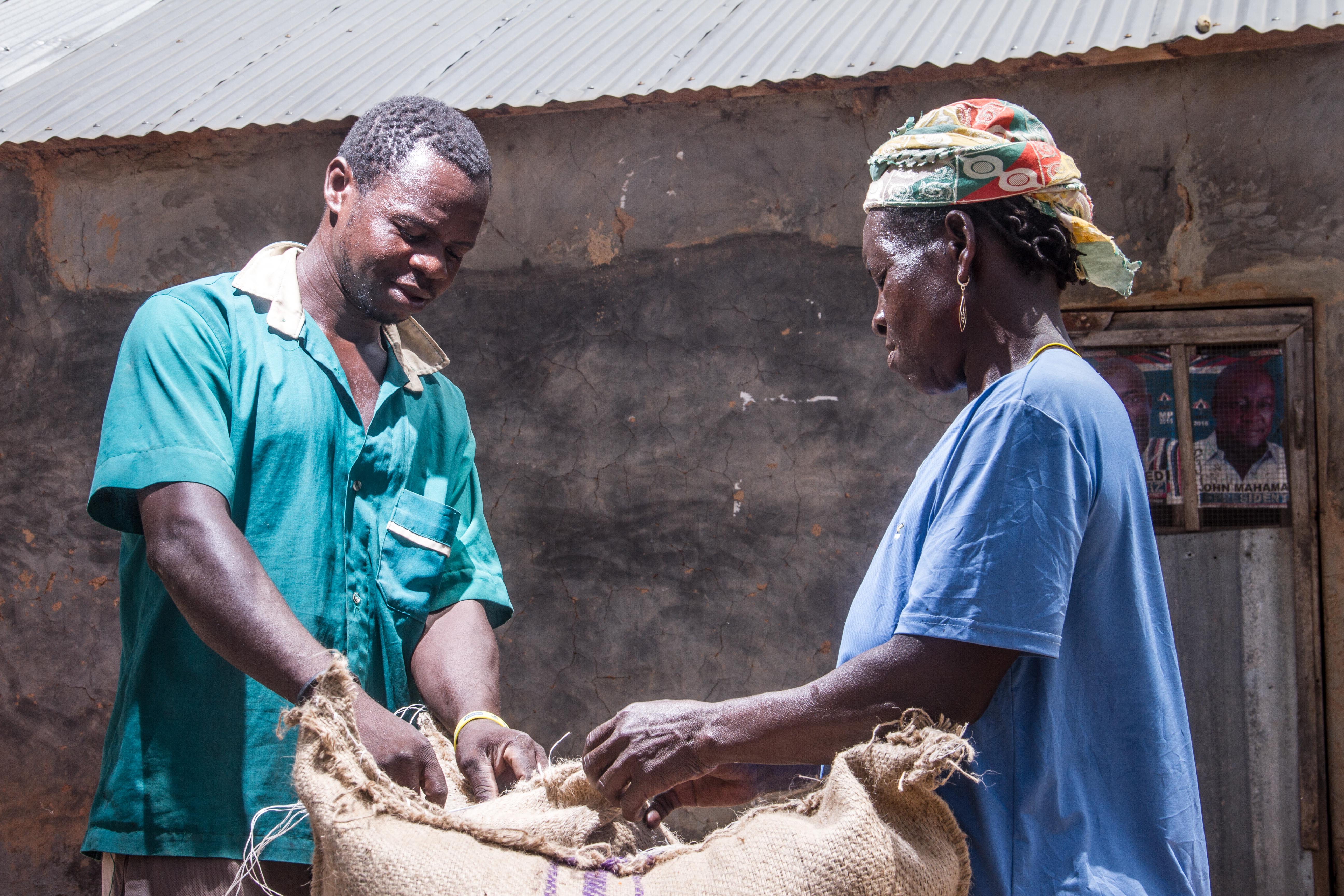 Abdul Baari, Ruhia (40)
Ruhia is fairly young at the age of 40, and as with the rest of the people in these rural areas, 25 kilometers away from the nearest piece of asphalt, there is no life anywhere else for her.
She has shown to be a great farmer, she had worked her crop and weeded her field very nicely, and she intended to do it the second time. However, her output was quite low last year, barely making back the seed she put in the ground. She had a poor variety of seeds last year, but she kept up her motivation and with the new variety being provided, it seems she will make money this year. Even with a dry weather having hit her fields for 18 days in the early germination phase of the 2018 season.
She expanded even after failing last year, and now grows 2 fields this year. If she keeps up her performance, she will become one of eGro's best  suppliers for many years to come. While she secures her households livelihood and starts improving their living standard sustainably.

Bioyili's Stories (Field Officer's Report)
Fuseini, Mahama (50)
"Toooo serious in what he does. He dug a well in his farm. He was THE ONLY ONE who manually ploughed his field when tractor was unavailable."  - "one acre's g.nut wasn't good." (2017)

Osman, Adam (50)
"Germination rate is IMPRESSIVE" (2018)
Alhassan, Fuseini (47)
"This farmer is engage in the cultivation of many acreage, which (means) he does not prioritize eGro's field. He started well at the beginning but later abandoned to mercy of weeds" (2017)

Mahama, Baba (51)
"His groundnut had poor germinate rate as compared to the others. He owns a teak plantation." (2017)
"He started weeding and along the line his hand got swollen" (2018)
Mbatinga, Mahakpe & Alfayili
Mahakpe is one of the smallest communities eGro works with, only about 20 families live there. The next community to the south is Alfayili. These 2 communities, Alfayili & Mahakpe, are quite well-known to each other. As well as Mbatinga, just down the road (2km). Together they form a triangle and the backbone of the Mbatinga cluster.
It's a good walk from the gravel road, so access in vehicle is via a dirt path. There is no sanitation, so everyone visits nature every morning. There is, however, electricity and a good well, which doesn't run dry during rainy seasons.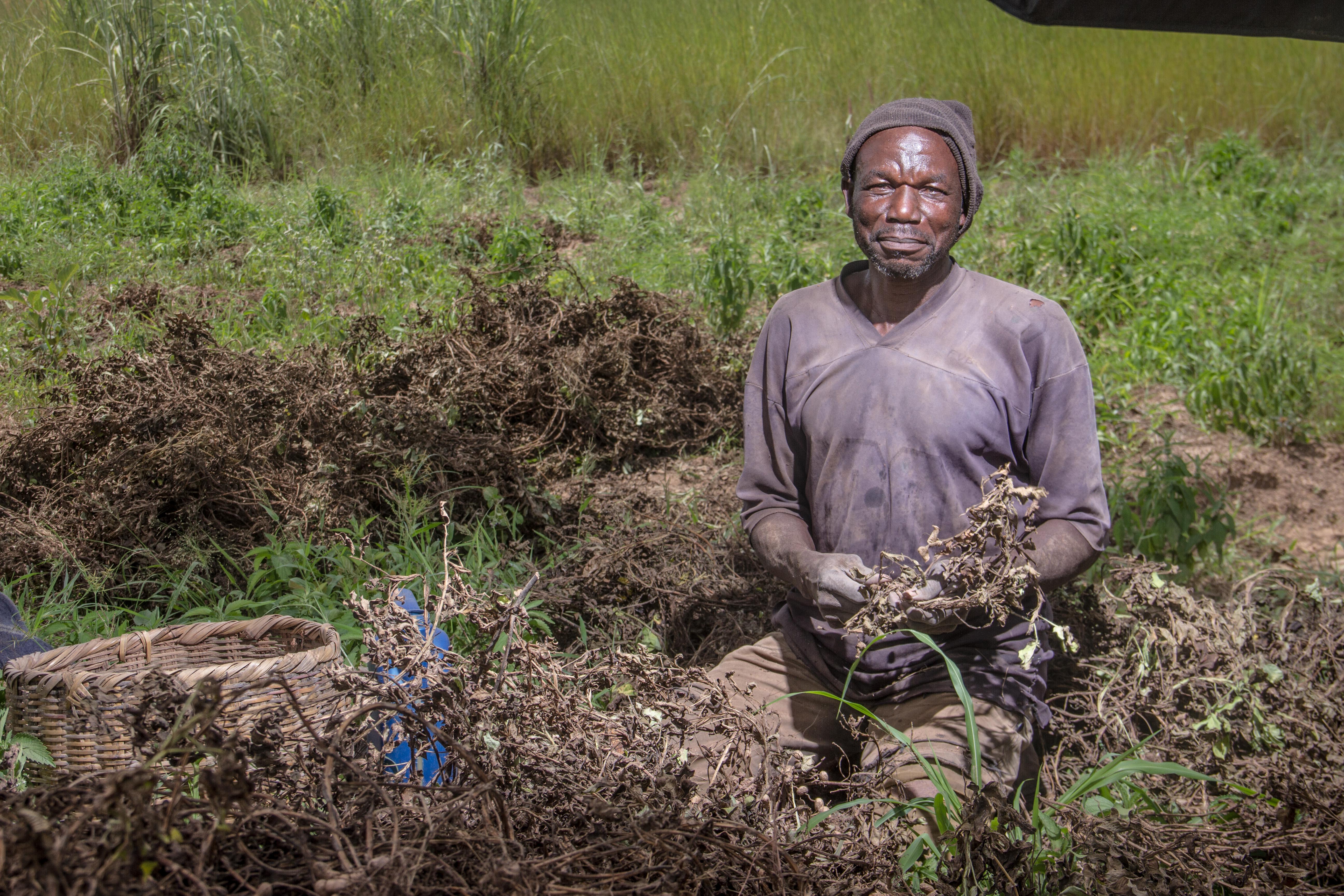 Mahakpe's Stories (Field Officer's Report)
Yakubu Fuseini (51)
"Is doing MARVELOUSLY well" (2018)
Yield could be good" (2017)
Afa Abdulai (51)
"He weeded his field once and the field looks bushy. Did not handle the trees well. Many of them died." (2017)
Kubura (56)
"She weeded her field twice and farm looks nice. She started weeding before any other farmer in Mahakpe. Only farmer that had planted the chilli" (2017)
"He thinks she deserves an award" (2018)

Featured Stories (Jacob Reports)
Zakaria Amadu (55) Alfyili
Amadu ranked almost last along with 4 other poor performing farmers in his community, where a total of 14 farms were developed in 2017.
The local eGro field officer Adbal Razak  gave an evaluation that during 2017 he had been inadequately motivated and not performing very well. The conclusion was that he should have been given the benefit of the doubt and we should see his willingness in 2018.
This is exactly the sort of farmer that is on the edge, and without adequate training he might not have the energy or motivation on the long term to lift his skills to be commercial. We cannot say with good confidence that he and his family will continue to be with eGro as a producer. He would need a sponsorship for us to continue with him in 2019. It's a risk to take, but maybe it's worth it.
Mba Kukoo Naa (72) Mbatinga
Kukuo Naa is the elected vice-chief of his community, he is one of two people you need to ask for permission to get an audience with the chief. One of his sons, Adama, is employed with eGro as a Field Officer, and he is monitoring 25 farmers.
"Kukuo Naa" is the most charismatic of all our farmers. He was the first to meet eGro, and the first to jump onboard. We see him as a hero to our development, and without his enthusiasm we probably wouldn't have succeeded in building a production capacity.
He once had a cashew plantation that was lost in a bushfire. His knowledge about farming is mediocre, he is very straightforward and not afraid to point out when we are stepping on boundaries of the local culture.
Kukuo Naa was our biggest producer in 2017, with 120kg of peanuts, from seeds of only 15kg. He has now got 2 fields of 85x85 meters.