We started our first project in Ghana by planting more than 1000 trees in 2016. 70 people in Denmark invested in our trees for the farmers to put in their fields in 2017.
When we plant the tree, you will receive a picture, GPS coordinates and information about the farmer and family, that planted it and will protect it in the future.
In 2017 eGro ordered 4000 seedlings to be planted in 8 communities, many of which never made it to the soil due to a fire in our nursery. 
We now know that 254 of those trees are still alive and well.
If you are one of the lucky 20 people that helped us by buying 70 trees back in the summer of 2016, you have probably been wondering where they went.
Here is one of them.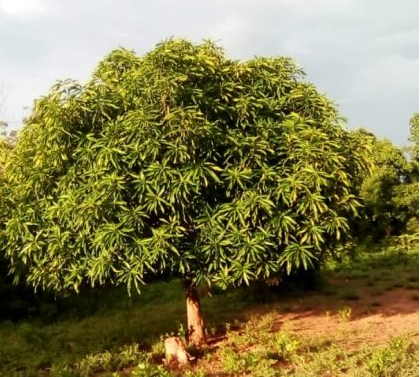 The Mango tree is one of the best trees for general survival in Africa. It is sturdy and can grow to become enourmous.
And of course it feeds a lot of people.
The objective in the coming future is to bring the fruits back to the end consumers, the very same people who invested in those trees in 2016.